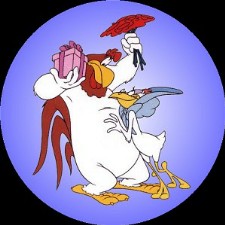 Now wait, I say, now wait a minute there sister!
 
Welcome to
One Foggy Site

Dedicated to the cartoon world's favorite rooster -
Foghorn Leghorn
---
You're here, I say, you're here at the heart of a website devoted to that Looney Tunes character Foghorn Leghorn and his various co-stars. This loud-mouthed practical jokester first appeared as a guest character for Henery Hawk in Robert McKimson's 1946 Warner Bros cartoon Walky Talky Hawky. Foggy proved to be a hit on his own right and went on to star in almost 30 Looney Tunes and Merrie Melodie cartoons. In addition to his booming voice and a collection of signature phrases, Foghorn Leghorn is perhaps best known for the various entanglements he got into with a number of recurring characters. In addition to Henery, these most often included Barnyard Dawg, Miss Prissy, her son Egghead Jr and a unnamed weasel. You'll find information about these costars here too.
You'll note the menu to the left or at the bottom which takes you to the other web pages here at One Foggy Site.
You Foghorn fans will also want to check out the webring and barnyard pages for more Foggy stuff. Anyway, thanks for dropping by and I hope you enjoy your stay. Comments are welcome. So until next time: Adios you chicken-pluckin' little stinkar!
---
Do you have a Looney Tunes website? I invite you to join me in the Looney Tunes webring:

Or you can join this webring if you have Foghorn Leghorn stuff on your site:

---
Check It Out!
A New Looney Tunes Website Devoted To

The Songs of One Froggy Evening

Learn all about the people and music which make this cartoon such a masterpiece!


A Few Links I Recommend... now featuring music from the early 20th century

Watch this space??


Hey Looney Tunes Fans!
Here's a new Looney Tunes Site for the serious fan: Hidden Looney Tunes Gags. It's got images and sound files highlighting some of the clever jokes the WB animators hid in their cartoons.


One Foggy Site is now featured in the Yahoo! and dmoz web directories. Select the logos above to see where it's listed!

---