Welcome to the
One Foggy Site
Webring Page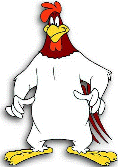 A resource for fans of the cartoon world's most boisterous barnyard fowl -
Foghorn Leghorn.
You've found yourself at a website devoted to that Looney Tunes character Foghorn Leghorn (and his various co-stars). If you just wondered in while following one of the webrings, I'd invite you to take a minute to explore the One Foggy Site a bit. You can use the menu to the left to navigate around the site.
Now the subject of this page is webrings and you can find these a little further down the page.
Anyway, thanks for dropping by and I hope you enjoy your stay. Comments are welcome, just use the FEEDBACK page. So until next time: Adios you chicken-pluckin' little stinkar!
Webrings

The copyrights to Looney Tunes characters are not owned by me and there is no commercial intent regarding the data presented here. It is merely an expression of enthusiasm by a fan.